Note: As this is an ongoing situation, this article will be updated with new information as it becomes known and as time permits.
Many people are looking for answers as to what this current pandemic is all about. While this article does not pretend to offer any expert answers, it is a compilation of known facts, official statements, anomalies, and also editorial opinion on some surrounding issues.
Models, examples and blowing of smoke
We should start with the exaggerated models. We have seen models and predictions where, in the US alone, there were going to be millions of deaths caused by the new corona virus. Some of those predictions were taking in account the current measures ("stay-at-home" orders, lockdowns, and such), so it's not like they failed because of "the right response" to the problem. Rather, the response was based on the faulty models. And now we can already see how this circular reasoning starts eating its own tail in some mainstream media. We start hearing that we see the "flattening of the curve" because the governments went full Fascist on their citizenry.
What we often see, are simplistic models, skewed or incomplete set of data, parallels and examples from history that are brought up in the mainline media. They are to convince us about the validity of the steps taken by many governments around the world. Many of these examples and models fall apart under closer scrutiny.
For example, some experts and academics use the 1918 swine flu epidemic and two US cities; St. Louis and Philadelphia. They argue that it was the social distancing in St. Louis that caused their lower death rate than in Philadelphia, where social distancing wasn't practiced. If someone won't look at more aspects of that situation, they may be persuaded by this shallow explanation. The real reason for the difference here, though, is that the American soldiers, that were bringing the swine flu with them, would first stop on the East Coast. Typically, the port of entry for them was Philadelphia, where they rested, before moving to other parts of the country.
We will be, hopefully, learning about all the underhanded tricks and sleigh-of-hand methods of dealing with the public in the months and years to come. Fear and uncertainty being main components of this stream of bad news from traditionally corrupt and mismanaged countries and regions (e.g. New York City, Italy, England). Undercover investigations by individuals and groups, like the Project Veritas, already revealed some of the staged nature of "reporting" and photo-ops for the dishonest media.
Let's take a look at just a few numbers
Let us compare a few countries, their adopted measures and a few numbers.
Three countries with comparable population. Numbers as of May 7, 2020.
Switzerland – population: 8.5M – 30k+ infections / 1.8k+ deaths
Measures: lockdowns and other restrictions
Sweden – population: 10M – 24.5k infections / 3k+ deaths
Measures: self-imposed quarantines, social distancing, protecting of people at risk
Belarus – population: 9.5M – 20k+ infections / 116 deaths
Measures: "drink vodka, go to saunas!"
The "nothing to see here" examples
There have been several countries that took a different approach to the problem. Some countries, states and regions implemented hardly any, or none, of the restrictions other, predominantly Western, countries have subjected their populations to.
For example, what happened in Belarus, with only 116 deaths? CNBC scoffs at their advice to the citizens: "drink vodka, go to saunas!" Hey, CNBC, what is your advice? Oh, right, "stay on lock-down, indefinitely, until Bill Gates gives you his cocktail vaccine". Judging by the numbers, I would rather go with the advice from the Belarusian "savages" - thank you very much.
If we are to believe that tyrannical measures work, Sweden should see more COVID-19 deaths (per-ca-pita) than Italy; while it's a little over 3,000.
While many in the mainstream media are wagging their fingers at Sweden, sounding as though that country is "experimenting on their population", the reality is diametrically opposed to that portrayal. It is the unusual and bizarre policies and measures adopted by much of the world "in fight with the pandemic" that bare the signs of one of the most insane, global, social, human-subject experiment, conducted on our civilization in the history of the planet.
We were told that Africa is going to be hit really hard with this pandemic. Mainly because of the lack of the infrastructures, just about non-existent health care system in most African countries, poor hygiene, difficulty at implementing social distancing or lock-downs, etc. After all, what good would it do to "lock-down" villages where people live in huts made of mud, dung and straw?
Well, do we see major outbreaks and many thousands or millions of deaths in African countries due to COVID-19?
Let's take a look at an interesting example here. Namely, Senegal. It is interesting for couple of reasons. If we were to follow the narrative related to some projections and models from various institutes, media and organizations, we would be lead to believe that one of the main reasons we don't see some catastrophic explosion of this new corona virus in Africa is because there is very little travel happening there – at least in the forms we are used to. Let us zoom in a little closer on this point. While there may be much less air, train or road (as in highways and freeways) travel going, the local travel is typically done in rather unsanitary conditions, where social distancing would be impossible to implement (try it in a small van with seven seats and ten people on-board!). So, we can see right away that this would be a misleading notion to embrace; namely, that this "lack of mass travel" in Africa is somehow precluding the spread of this novel virus.
Besides, it would only take one infected person to bring down a whole region, right? That is if we are to believe what we are told about the rate of infection and how long someone can be without symptoms, etc, etc.
Another reason, why Senegal is an interesting example, is that it has high numbers of visitors from both, Europe AND China. As of writing these words, according to the Johns Hopkins numbers (that most of the world is using, and trusting for some reason) there have been 9 (NINE) corona virus deaths in this country and 933 cases of infections.
No face masks, no social distancing, no curfews, no lock-downs and not the highest sanitary standards in the world. We are still waiting for the models created by the WHO, the CDC and the Fauci's of this world along with dire predictions created by the media to finally start working.
SARS-CoV-2 testing
The basics. The term "test kit for SARS-CoV-2 virus" is meaningless. It does NOT test for the presence of the 2019 novel virus. If you were to contact a lab or an institute and ask them to test for the presence of the virus in your body, it would cost you about $23,000. What the commonly used test kit does, is test for a certain genetic material in your sample. This genetic material is rather common and present in many humans and animals. In fact, it is common to the Corona Virus family of organisms.
There have been many reports on the high fail rate of the tests. They would create both, false-positives and false-negatives. However, false-positives are the most commonly reported.
We certainly see an "alarming" increase of positive test results in the tested populations. This, however, shouldn't be a big surprise. Here are possible reasons:
COVID-19 tests don't look specifically for the SARS-CoV-2 virus. Rather, they look for a common genetic material.
COVID-19 tests have a high rate of false-positives.
This novel corona virus came out in China in October of 2019. It had lots of time to blow around the world, before some countries - at different rate - implemented their restrictions on travel and everyday activities.
We are told that in many cases the course of the disease is asymptomatic and that it is highly infectious. That would mean that, before any steps were taken, the disease would have been spreading all over the world for a few months.
The main bad news in this situation is the unusual, unprecedented response to the virus by some governments. The good news is that most likely, most people got the virus. How is it a good news? In other words, if the numerator (deaths) stays the same or moves very slowly, but the denominator (infections) grows fast, that changes the proportion, bringing the mortality rate way down. It is rather bizarre that so many countries base their policies toward the virus on a few spots (like Wuhan, New York City and Italy) that truly became a circus and a focal point of the media.
On a more anecdotal note, a goat and a pawpaw fruit tested positive for COVID-19 in Tanzania. The no-nonsense people, rather suspicious of another "goodie" that came from the West, tested material from the two above "subjects" and – like a rabbit from a hat – voila! You've got COVID!
That's not very reassuring.
One can find that SARS and MERS, indeed, met the criteria for replicating, culturing and passing the disease to other organisms. As to date, the search for some meaningful information on whether the SARS-CoV-2 novel virus meets the Koch's Postulates, returns only some vague and conflicting information and lots of bickering on online forums.
A carrot and a stick for the hospitals
There are countless reports in the news, interviews, blogs and vlogs with doctors, nurses, and other health professionals as well as many researchers, who relay the same information of people being told and pressured, incentives, policies and guidelines being created to over-report COVID-19 deaths. In countries, states and regions, with either a strong top-down policy implementation or a systemic corruption, we see much higher "corona virus deaths".
As phrased here, it sounds like a rather big generalization. So we need to look closer at cuts of revenues for US hospitals on one side, and creating certain incentives on the other side.
Hospitals in the US are currently closed to patients who need screenings, procedures and all kinds of everyday medical attention, "due to coronavirus pandemic" (aren't we all getting tired already of hearing this phrase). Not to mention, many people are afraid to go to the hospital – even when it's ok to do so. That means cutting off most hospitals' normal revenue stream. On the other hand, they are paid about $13,000 for every COVID-19 patient admitted to the hospital. But, that's not all. For every one of these patients, that will be put on ventilators, the hospital will receive $39,000. The number may vary (up and down), based on location, but is typically close to the quoted figures.
This two-prong approach is true in other countries as well, however it may take on different forms. Many people have already suffered due to the lack medical attention. They are people who were scheduled for check-ups, medical procedures and surgeries prior to redirecting most attention to the so-called pandemic or otherwise developed a need for medical attention during the scare.
Both, Politifact and Snopes are bending over backwards trying to say this is not true. They had to capitulate, after building many straw men and shedding many bitter tears, that it is "partially true". No, if you follow their own links to the Health Care websites, it is 100% true. The way they phrase it, it can be twisted into many things, though.
Strange statistics and weird policies
Given enough patience and persistence at finding the information, you will be able to find and look up for yourself statistics, statements and policies that don't add up, don't make any possible sense nor are backed by facts or science.
For example, if we compare analogous periods for data collected for New York State in past years (as the 2019 reflects a typical year's figures) with 2020, you will see some strange things going on in there.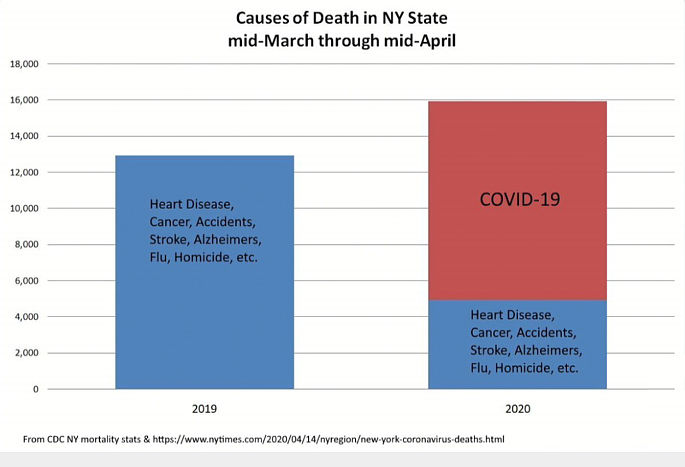 Mortality rates in New York graph for 2019 and 2020
It seems that the graph is missing in the article referenced in the image. However, you can find the underlying raw data on the CDC website. There have been many charts and graphs made based on this data set. This is not a NYC-specific data. Therefore the difference is not as sharply pronounced.
Strange CDC guidance for recording "probable" or "presumed" COVID-19 deaths: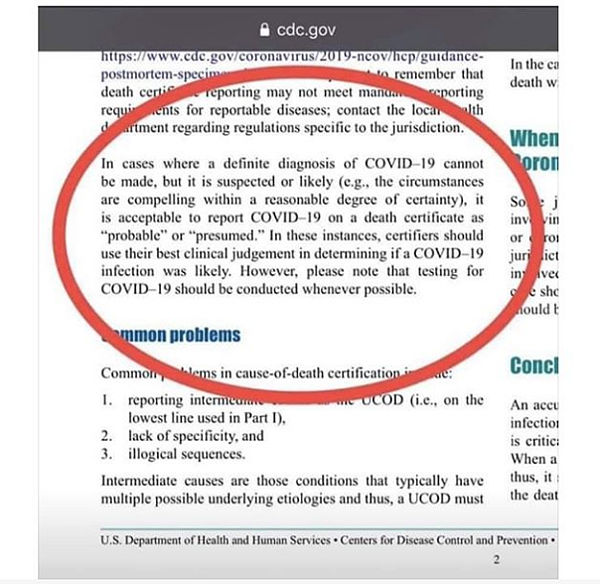 CDC guidance as for recording of COVID-19 deaths
Lead-in timeline - a.k.a. was there any chatter prior to the plannedemic?
Let us take a quick look at just a few items in the run-up timeline to this circus.
2015 - Bill Gates gave a TedTalk presentation on "a viral pandemic that we weren't ready for". The star virus of the show was none other than Coronavirus. (Look it up and see the Gates' background on stage.)
2015 – The year that Gates met with President Xi.
2015 – Antoni Fauci is involved in the release of funds to the Wuhan BSL-4 lab (authorized by the then-president Barak Obama) to the tune of $3.7 million. These funds were to be used in research of – yes, you've guessed it – SARS-cov-2 virus. It was a bad image thing for the US. The $3.7M is the most quoted figure, but this wasn't the only time the WIV (Wuhan Institute of Virology) received funding from both, the US Government and the Gates Foundation.
2017 – Antoni Fauci stated in a public speech that the president will be faced with an "unexpected pandemic" in the coming years. One has to wonder how could he possibly know that. I suggest the FBI should raid his basement to see if he's not harboring a contraband time machine in there.
2019 – in October, Bill Gates held tabletop exercise called "Event 201". Its subject was a simulated corona virus outbreak (predicting 60M+ deaths).
2019 - Later that year, Netflix released a TV show called "Pandemic", in which Bill Gates "saves the world" with his vaccines. Can someone say, predictive programming?
2019 - USA Jobs lists CDC's ad last year, "Public Health Advisor (Quarantine Program)" - note the dates